2018 杭州赛分队名单!HANGZHOU HAT TEAMS!

如果你报名或缴费了但是没有看到你的名字,请联系Jack (Wechat:282802183).If you registered or paid but do not see your name here, please contact Jack (Wechat:282802183).
赛事手册摘要:比赛时间/Date2018年10月27日 - 28日 27th-28th October2018 比赛地点/Location杭州华速凌云足球公园杭州市下城区笕桥镇水墩村5组1号
Hangzhou Top Gun Soccer FieldNo. 5-1, Shuiduncun, Jianqiao Subdistrict, Xiacheng District, Hangzhou 推荐酒店/Accommodation recommendation格林豪泰酒店(杭州火车东站店)杭州市江干区秋涛北路320号房间量15间(双床房)电话提前预约告知酒店杭州飞盘比赛参赛选手可享受协议价¥201/间/晚,数量有限,电话:0571-81901010
杭州汇和君亭酒店杭州江干区新风路589号(杭州东站步行5分钟)房价450元含2早(1.5m的床)总机: 0571 86750666 总经理:卢杰13666679508
Huihe Narada Boutique Hotel589 Xinfeng Rd, Jianggan District, Hangzhou
¥450 per night, complimentary breakfast for two (1.5m bed)

Reception: 0571 86750666 Hotel GM: Lu Jie 13666679508 交通/Transportation 前往酒店/Directions to hotel:萧山机场/From Hangzhou Xiaoshan Airport & 杭州站/From Hangzhou Station 建议乘坐网约车或者出租车Uber, Didi, or Taxi 杭州东站/From East Hangzhou Station建议乘坐网约车,出租车,或者骑车Uber, Didi, Taxi, or biking 前往场地/Directions to Fields建议乘坐网约车,出租车,或者骑车Uber, Didi, Taxi, or biking 赛程/Schedule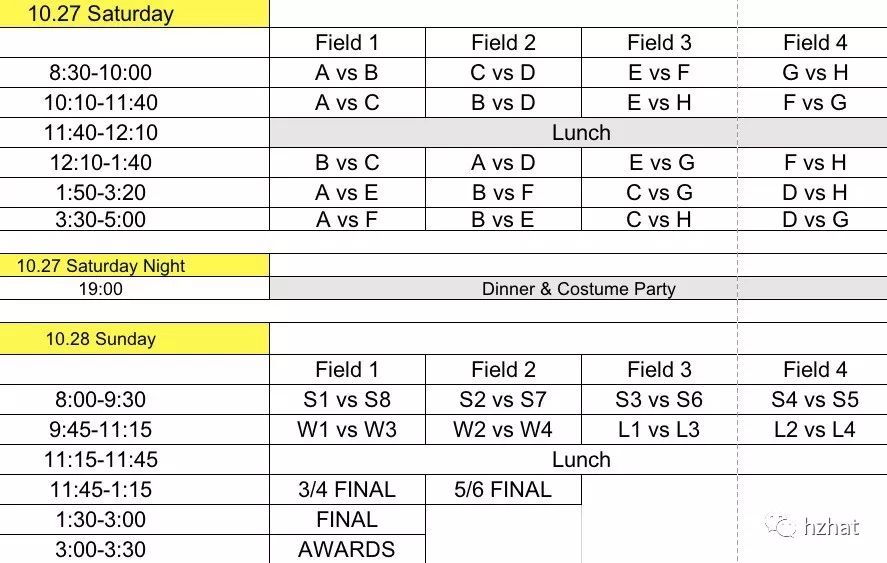 周六比赛全部结束后,队伍排名会在当晚公布
A ranking will be announced on Saturday night

比赛规则/Rules此次比赛采用WFDF规则,比赛时间为90分钟,13分制,打到7分后进入半场休息(5分钟)。上下半场各一个暂停,另有一个浮动暂停(90秒)可在任意时间使用。第70分钟开始施行软帽子时限,第80分钟开始施行硬帽子时限
WFDF Rules, 90 mins with soft time cap at 70 mins and a hard time cap at 80 mins, games to 13. 1 time-out for each half, 1 floater (90 seconds) per gameSoft cap: Let the point finish. After the point, add 2 to the score of the team in the lead. If this number is less than what the game is being played to, you are now playing to this number. Example, soft cap goes on at 9-8 game to15, the game is now played to 11 with no win by 2 requirements. Soft capgenerally goes on about 15-20 minutes before hard capHard cap: Finish the point. If one team is winning, they win the game. Ifit is tied, play one more 'universe' point 餐饮/Dining周五晚(自费):热身派对周六日早午餐:比赛场地领取周六晚:东茂宾馆(凯旋路451号) Party+自助晚餐+酒水畅饮请穿上你的COSTUME!别忘了今年的派对主题:超级英雄! 我们将投票选出五个最好的装扮,每人奖励飞盘一张PARTY不穿COS的要罚酒!看到一个穿的罚一杯!看到两个罚两杯! Friday Night (optional): Warm-up PartySaturday & Sunday, Breakfast & Lunch: Provided at the fieldSaturday Dinner: Costume party + buffet at Dong Mao Hotel (No. 451 KaixuanRd) Bring your costume! The theme of our party is SUPERHERO!
We will select 5 people with great costumes and award each of them with a frisbee. Win the party!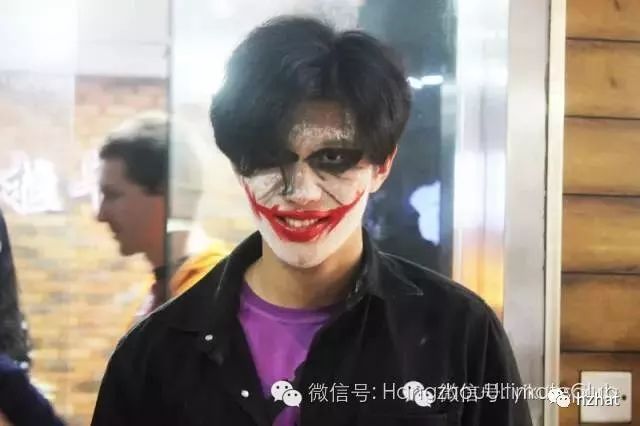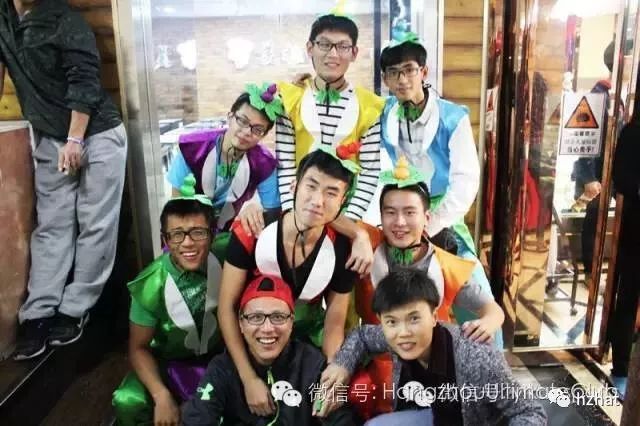 飞盘精神评比/Spirit Award此次比赛将进行飞盘精神评比,每场比赛结束后由队长填写评比表格,评分最高的队伍将获得最佳精神奖
Captains will write postgame spirit reviews. The team with the highestoverall score wins the Spirit Award 纪念飞盘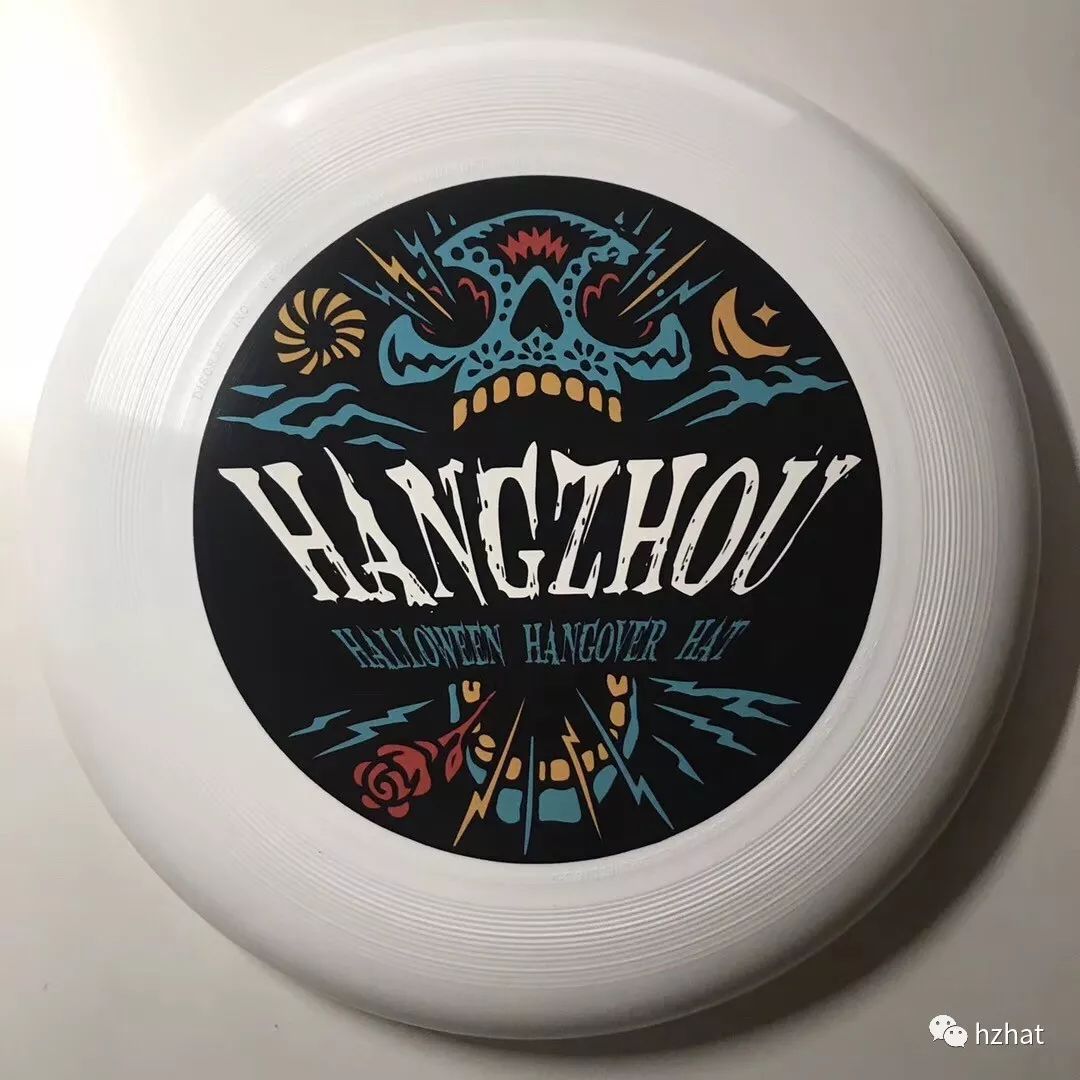 Discraft赛事纪念飞盘在比赛期间独家发售 ¥100
Discraft discs available for sale - ¥100